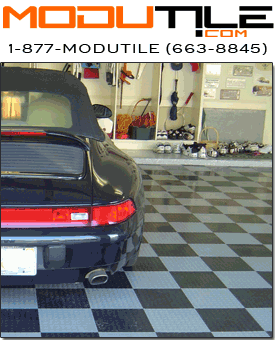 Garage Tile Design and Style - Our modular garage floor tiles are designed for your garage. They are available in various designs including Diamond Top, Coin Top and Perforated versions. Of course, they are also available in various colors to fit your unique design requirements. We encourage you to visit our website for more information and color availability on all our garage flooring options.
Locking Mechanism - These garage floor tiles are made from a durable high-impact polypropylene material. They are designed to interlock together using a durable interlocking loop-to-peg system. This allows you to combine more than one garage tile together to cover larger floors. If you desire, you can even cover your entire garage. Your imagination is the only limit! Yes, the tiles are designed for your car or SUV to park on top of them without breaking or coming apart.
Garage Floor Tiles are easy to install - There is no surface preparation required other than to sweep the floor clean. The garage floor tiles install without using any tools or adhesives. Just interlock the tiles together by hand. An entire garage takes about 2 or 3 hours to put together. Please review our short video to see how we interlock the floor tiles together.
Garage Tiles are Durable - These tiles are made from a High-Impact Polymer material. They are designed to withstand heavy loads such as a Suburban or Two Ton Truck. They have a rollover weight of approximately 40,000 lbs. Petroleum products such as grease, oil or gasoline do not easily affect the floor tiles.
Garage Floor Tile Maintenance - To clean, you can sweep up any dirt and simply spot clean with water and a mild soap and then wipe dry. We recommend the use of a sponge mop. The modular garage floor mat is a great way to enhance the look of garage floors and the great designs are made with your garage in mind. For more information on cleaning, please visit our site and read our serious of articles on maintenance.
Portable Flooring - If you think it was easy to install, you will find that it is just as easy to transport or relocate. To move the tiles to another location, you can simply unlock the tiles and re-install them at your new location. You will keep your investment for many years to come.